Notice: Trying to access array offset on value of type bool in /var/www/html/wp-content/plugins/wp-word-count/public/class-wpwc-public.php on line 123
The buyout music industry has been around for decades, and it has seen many changes over the years. In this article, we will explore buyout music, how it works, its role in video production and similar fields.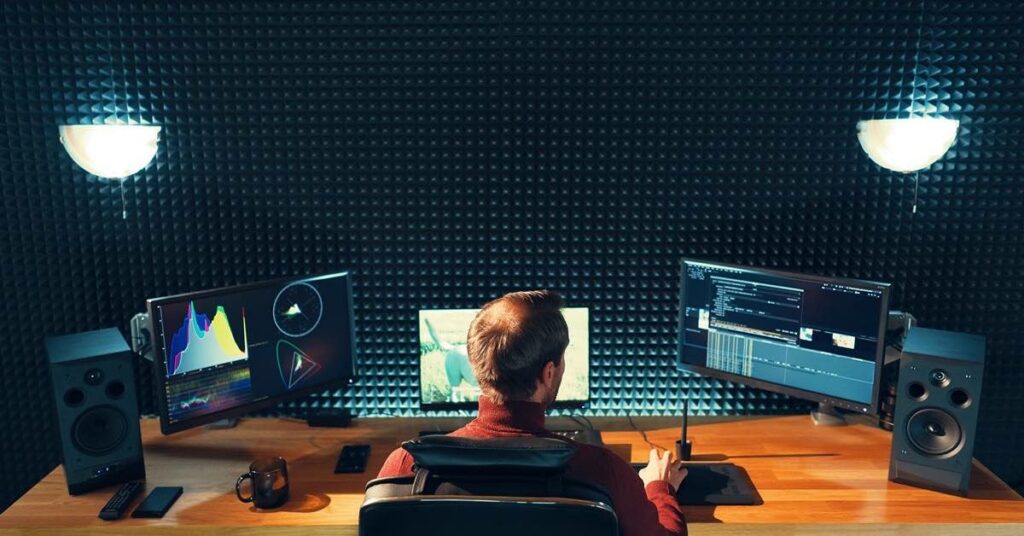 What is Buyout Music?
A piece of buyout music is royalty-free music that you can buy outright. This means you do not need to pay royalties for the song. A buyout music license is a license that allows you to use the music in your production without paying royalties for it.
A buyout music license is similar to a standard Royalty-Free License in that it allows you to use the piece of music and doesn't cost you anything. In some instances, the difference is that a Buyout Music License only allows you to use the music once. Then you must purchase an individual license for each additional production or use.
What Does it Mean When Music is "Royalty Free"?
Royalty-free music is a term used to describe music that is not subject to copyright. This means you can use it for commercial purposes without royalties.
The term royalty-free means different things to different people. In some countries, it means a song that is not subject to copyright and can be used for commercial purposes without paying royalties.
In other countries, it may mean a song available on the internet but cleared by the original artist and has no restrictions on use or distribution.
Finding the Right Royalty-Free Music License for Your Needs
If you are looking for a license to use music in your videos and other projects, you must know the difference between a buyout license and a non-exclusive license.
A buyout license is an agreement that gives the licensee exclusive rights to distribute or use the music in any way they choose. This type of agreement is most often used by businesses who intend to use the music as part of their company branding or advertising.
A non-exclusive license gives the licensee permission to use the music but not all rights. These agreements are most often used by individuals who want to create videos for social media or personal projects.
What are the Best Websites for Finding Quality Royalty-Free Music?
Various websites offer royalty-free music. These websites sell the music for a fixed price, and the buyers can use it for any purpose.
The most popular sites for buying royalty-free music are:
SoundStripe
YouTube
Artlist
An example of a use for royalty-free music would be YouTube videos. If the creator of the video wants only to have the background music played, they can pay a fixed price, usually $10 or less, and use it in their videos.
The creators can also share their content with people who cannot access royalty-free websites because they are not in the US. Royalty-free music is used in many media types, such as commercials, YouTube videos, and movies.
Websites like AudioJungle and Pond5 offer royalty-free music at a lower price than other websites like Creative Market and YouTube Music Key.
Why You Should Consider Buying Out Your Own Songs to Maximize Your Profit Potential
There are many reasons why buying out your song is a good idea. One of the main reasons is that if you have a song, you would like to use for commercial purposes, finding someone who will license the piece from you can be challenging.
In this case, it may make sense for you to buy out your song so that you can sell the rights to it. This way, you will get a higher return on your investment and maximize your profit potential.
Music Licensing and How it Can be a Game Changer for Your Business
Music licensing is a complicated process, and we must be careful about many things that can happen. The following article will show how music licensing can be a game changer for your business.
Music licensing is one of the essential aspects of media production. It can make or break your project, and it's something that you need to understand if you want to succeed in the industry.
In this post, I'll cover everything you need to know about music licensing, including its many uses, the types of licenses available, how much it costs, and what you need to do to get started on the right foot.
What is Music Licensing?
Music licensing is a legal process by which a company or individual acquires the right to use music in their projects. Music licensing is essential to any video production, allowing the company to use copyrighted material legally.
There are two types of music licenses: synchronization and master use. Synchronization licenses allow the licensee to synchronize the music with images. In contrast, master-use licenses will enable the licensee to reproduce and distribute copies of the song in any way they see fit.
Why is Licensing Necessary?
Licensing is necessary for any business that wants to use copyright material. It's a legal agreement between the owner of the content and the company or individual who wants to use it.
The owner grants the company or individual permission to use their copyrighted material in exchange for a fee. A music license is a type of license that is required when you want to use copyrighted music in your business.
You can't just play any song you want at your event, store, or restaurant without getting permission from the copyright holder first. There are three types of licenses: Master Use, Synchronization, and Blanket.
A master use license allows you to record an entire song and distribute it as your work on CDs and digital downloads. A synchronization license lets you synchronize recorded music with your video or digital media, and a blanket license lets you use copyrighted music in ways that do not require a license.
The cost for all three types of licenses depends on the size of your business. A trademark is formed when you create a word, phrase, logo, symbol, or design that identifies an individual's goods or services with one business in particular.
Types of Licenses to Consider When Using Music in Your Company's Product or Service
The following licenses are the most common types of licenses businesses will encounter when licensing music for their product or service.
There are three different types of licenses to consider when purchasing music: buyout, royalty-free and sync.
A buyout license is a license that covers all rights to use a song and allows the licensee to use it in any way they want. A royalty-free license is a license that covers all rights to use a song but does not allow the licensee to change the song in any way.
A sync license is a license that covers all rights to synchronize a song with images, video or other audio content for an agreed-upon length of time.
What are the Steps Needed to Get a License?
To get a license, you need to do the following:
Find out who owns the song.
Find out what type of license is necessary.
Get a contact name and email address for the licensee.
Contact the licensee and ask permission to use their song in your project.
Once you have permission, pay for your license and send them proof of payment to receive your license certificate.
How Do You Pick an Agency/Licensing Company?
There are a lot of factors to consider when choosing an agency or licensing company.
It would be best if you considered the following:
What kind of music do you need?
What kind of license do you need?
How much money are you willing to spend?
Do you have a preference for which country the agency is from
How many licenses do you need?
Do you want the license to be public or private?
What kind of music do you need?
If you are making music for sale, a public license is needed. For example, if your song is going to be used in advertisements like commercials, then a general license is required.
Keep in Mind That There are Different Types of Rights
The word "copyright" is often used to describe an author's rights in their work. However, this is not always the case. An author may have different types of copyrights and other rights for their work.
The first type of copyright is called a "work-for-hire" or "work made for hire" copyright. This means that the person who created the work was hired to make it by someone else, so they own it.
A typical example would be a movie screenplay written by a paid writer for a production company.
The second type of copyright is called an "assignment" copyright. This means that one person owns the copyright to work, but they have assigned it to another person.
This could be a book that an author and the publisher copyright. The publisher then assigns the copyright to a writer working on the book with them.
The third type of copyright is called a "limited-term" or "short-term" copyright. This means that one person owns the copyright to their work but only owns it for a limited duration.
Tips on How to Find the Perfect Buyout Music for Your Video Games
There are some guidelines to follow when you are looking for the perfect music for your video games:
You need to consider the genre of your game.
You need to find a company to help you with the licensing process.
Make sure that you have a budget in mind before starting your search.
It is also essential to consider what kind of mood and tone you want for your game's soundtrack. It would be best to consider how long the music will be playing and how much it will cost per minute.
The following are some examples of companies that provide buyout music for video games:
Epic Games
Audiomachine
Royalty-Free Music Library
Buyout Music in Games
The music in video games is often used to make the gameplay more enjoyable. You can also use it to create a particular atmosphere or mood that the game tries to convey. Video game music has become a big part of video games because it can make the player feel immersed in the world and have a better experience with their game.
In recent years, companies have started to buy out video game music, which means they are not allowing other companies to use that music in their games. This is done because these companies want people who play their games to have an experience that is unique and different from other players.
What to Look Out For When Buying Production Music
Production music is used in video games, film, television, and other media. You can purchase production music from a library, or it can be custom-made for a specific project. It can also be composed by an artist or composer who records it for the sole purpose of being sold as production music.
Production Music Libraries Music libraries have been around for centuries, but the advent of digital media has transformed companies that sell production music into significant players in the industry.
With thousands of songs available for commercial use, finding the perfect piece to make your project stand out from its competitors has never been more accessible.
3 Tips on How to Find the Perfect Buyout Music for Your Video Games
1. Find a music library that has a large selection of royalty-free music
Faced with finding a site with a large selection of music, one might be tempted to search for the word "music" in Google.
The results of this search would yield sites like YouTube, Vimeo and SoundCloud. These sites are all excellent choices for finding music, but they don't have a large selection of royalty-free music. The best place to find royalty-free music is Pond.
2. Find out if the music library is affordable
Music libraries are a great way to find the perfect song for any project. These libraries have thousands of songs you can license for $25 – $35 per song.
3. Find out how easy it is to get the perfect audio for your video game
Video game development is a complicated process. Many aspects of the game require a team of talented professionals to create. One of those aspects is audio.
Start Finding The Perfect Buyout Song Now To Make Your Video Games Stand Out
The music of a video game can be the difference between a good game and a fantastic game. The right song can bring out the emotions expressed on screen, making your video games stand out.
When finding the perfect buyout song, it is crucial to remember that many factors go into making a booming video game soundtrack. You must find the right artist, consider licensing deals, and ensure you have enough money for production.
There are plenty of different ways to find music for your video games. You can search through YouTube, Soundcloud or other sites with free downloadable tracks.