Notice: Trying to access array offset on value of type bool in /var/www/html/wp-content/plugins/wp-word-count/public/class-wpwc-public.php on line 123
Music for videos is an essential aspect of the video production process. But it can be challenging to find music suitable for your project. The key is ensuring you understand what you're looking for and find the right music to work with.
This article will explore the different ways you can source music for your video and give tips on getting the best results from your chosen track.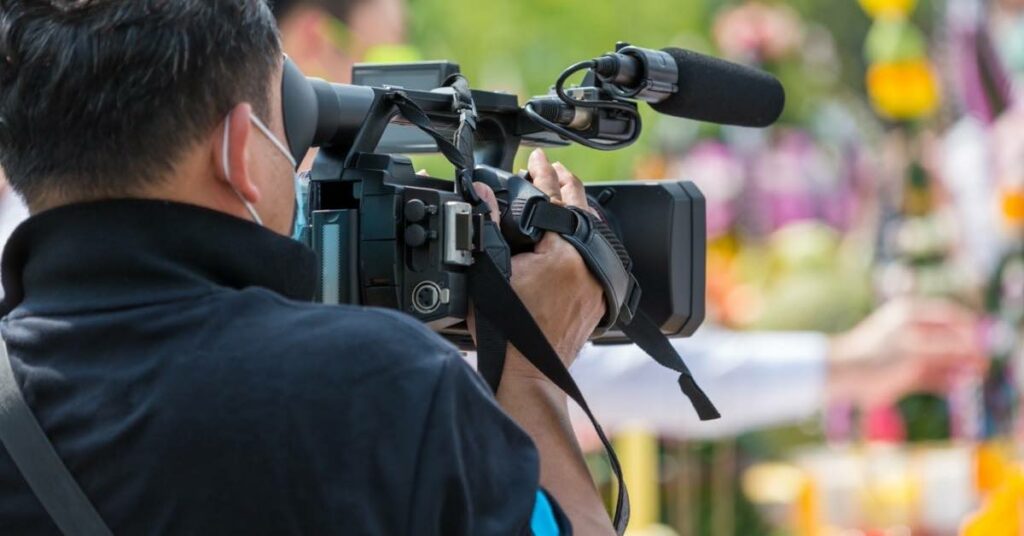 Tips on How to Find the Perfect Music For Your Video
Music is a powerful tool. It can make or break your video. That's why it's crucial to find the perfect music for your video before you start filming.
You first need to think about what kind of mood you want your video to have. Is it upbeat and happy? Or is it sombre and sad? Once you know what mood you want, it's time to start looking for music matching that mood.
There are many websites where you can find royalty-free music for your videos, such as PremiumBeat and AudioJungle, but they each have their licensing terms, so be sure to read the fine print before using any of the songs on their site.
What Type of Music Should You Use?
There are two types of music that you can use for your video. The first is instrumental music. This type of music does not have lyrics, and it's meant to be a background for the video.
The second type of music is a song with lyrics. These songs are meant to be the video's focus and can be used as a soundtrack.
Instrumental songs are typically cheaper than copyrighted songs, but they also don't have any words, which may deter some people from using them in their videos.
What's the Difference Between Royalty Free and Copyright Free Music?
Royalty-free music is the type of music you can use for commercial purposes without paying royalties. On the other hand, copyright-free music is a type of creative work that can be used for commercial purposes but does not require royalties.
How Much Does Licensing a Song Cost?
Licensing a song for a film or TV show can cost anywhere from $500 to $20,000. The price depends on what the license includes and how long it lasts.
There are many different types of music licenses available to suit different needs. For example, royalties-free licenses offer unlimited use within specific parameters for a set fee. There is also the option to license a song with the rights to reproduce and distribute it and offer it as an in-store background track.
How to Find the Right Music for your Video Production
Music is a powerful tool that can make or break video production. Choosing the right music for the video is essential to create the desired effect.
Many different types of music can be used for videos. Royalty-free music and copyright-free music are two of these types, but they are not the same.
The difference between these two types is that royalty-free music is usually more expensive than copyright-free music. Still, it also has more variety and flexibility regarding licensing agreements.
10 Tips for Music Selection in Your Visual Storytelling
Use the song to tell the story.
Find a theme that matches the mood of your story.
Consider licensing your music.
Your video should be between 1-2 minutes long.
Make sure you have permission to use any copyrighted material in your video.
Keep it simple, don't overthink it.
Use royalty-free music (free of copyright)
If you're using an instrumental, make sure there are no lyrics so that viewers can interpret their own meaning from the music and visuals alone.
A great way to find royalty-free music is at Audiojungle or Pond5.
Lastly, if you're having trouble finding a song that fits with your video production, try searching for the following keywords- royalty-free music library, commercial music, stock music library.
The Dos and Don'ts of Using Music in a Video
The Dos and Don'ts of Using Music in a Video
Don't use copyrighted music.
Don't use music that is not licensed for commercial purposes.
Don't just throw any song on your video.
Do think about the type of song you want to use and how it will affect your audience.
Do be mindful when using clips from copyrighted media with permission.
Why Bother with "Legal" Music When You Can Get it For Free?
Copyright is the right of an author to their original work. It gives them exclusive rights to control what happens with their work and who gets to use it.
There are two types of copyright:
1) moral copyright – the right for an artist to be credited for their work
2) legal copyright – the right for an author to control how others use their work
There are many reasons why you should bother with "legal" music when you can get it for free. For example, if you make money from your music, then you will have to pay royalties on any song that is not legally licensed.
Another reason is that "legal" music has many more benefits than just legal, such as higher quality sound, better customer service, and more reliable delivery.
Creating Emotional Content for Video Production & Advertising
What is the Role of Music in Video Production?
Music is an integral part of video production. It can set the mood, create a sense of urgency, or create calmness.
Music in video production is used to set the mood, create a sense of urgency, or create a sense of calmness. Background music is often used to provide ambience and to help listeners focus on the content being spoken.
How Does Music Affect Your Emotional State?
Music is a powerful tool that can affect our emotions and moods. It can be used as a therapeutic tool to help people with mental health issues.
Music has the power to create an emotional response in people, and it has been used for therapeutic purposes for centuries. Music therapy is the use of music to promote healing, wellness and personal growth. This is done by using music in various ways, such as listening, playing or making music, or singing.
This article will explore how does music affect our emotions and moods?
Different Types of Moods and How to Match Them with a Track
Every person has their mood, and finding the perfect track to match that mood can be tricky.
This article will help you find a song for any mood.
It will also teach you how to make your playlist based on your current mood.
1: "The Way You Make Me Feel" by Michael Jackson
2: "Poker Face" by Lady Gaga
3: "Don't Stop Believing" by Journey
Why Should Video Production Use Music to Create the Right Environment for Audience Engagement?
Video production is a potent tool that you can use to convey the message of a company or organization. The content of the video is what makes or breaks it. But some factors are not so easily captured in words and visuals. Music is one factor that can help create a vibrant environment for the audience.